ABOUT US
Antares Vision Group is a technology partner in digitalization and innovation for companies, institutions, and governments, guaranteeing the safety, quality, sustainability, and efficiency of products and supply chains to build trust.
WHAT WE DO
We provide a unique and integrated ecosystem of technologies – including software and hardware – to guarantee
product quality (inspection systems and equipment)
and end-to-end traceability (from raw materials to production, from distribution to the consumer)
through connected data management, applying artificial intelligence and blockchain.
We are active in:
Life Science (pharmaceuticals, medical devices, and hospitals)
Beverage
Food
Cosmetics
Chemicals
Packaging
and potentially in many other industries.
EXPERIENCE & EXPERTISE
As the world leader in track and trace solutions for pharmaceutical products, we provide major global pharma manufacturers (more than 50% of the Top 20 multinationals) and several government authorities with solutions to monitor their supply chains and validate product authenticity.
VALUES
Innovation
Passion and energy
Cooperation
Resilience
Sustainability
Our story: from a small startup in 2007 to today. A journey of experiences, skills, technologies and companies united in a single project, the Group.
2022
A NEW INTEGRATED ECOSYSTEM OF TECHNOLOGIES
Our 2022 begins with the acquisition of Acsis, a software company that assists global companies with their data collection requirements for track and trace and inventory optimization through their supply chains as well as delivering seamless integration of the information to their ERP systems.
In June we announce a new partnership with Edgyn, leading brand protection expert provider, that created and patented the ADFIRMIA™ digital fingerprinting technology, with the aim of delivering the most advanced brand protection and product authentication suite with a focus on the pharmaceutical industry.
Our summer ends with two more acquisitions: the entry of Packital and Ingg. Vescovini in our Group strengthen our position in Food & Beverage inspection sector. In December, Ingg. Vescovini joins Tecnel, already part of the Group, forming AV Electronics, with the aim of creating a centre of excellence in specialised electronics able to boost the technological innovation process of any packing and packaging system manufacturer.
Our 2022 is then marked by important agreements reached with various Research Centers and universities: with the University of Naples Federico II National Research Centre "Agritech", with the National Research Centre "Development Gene Therapy and Medicines with RNA Technology" of Padua, and with University of Brescia and Dompé Farmaceutici for L.I.G.H.T. project.
In October we land in the metaverse. AVGroupVERSE offers an immersive experience of the Antares Vision Group ecosystem of technologies, aimed at guaranteeing quality and safety, efficiency, traceability and sustainability at every step of the supply chain.
Read all
2021
LIMITLESS
In February, we complete the acquisition of rfXcel Corporation, which effectively becomes part of Antares Vision Group. With rfXcel, many new colleagues and a great deal of experience in the development of software for Life Sciences and Food & Beverage join the Group, capable of guaranteeing the safety of medicines along the entire supply chain, compliance with current regulations and the acquisition and real-time data processing.
Given the period, our support and intervention cannot be missing to stem the Covid-19 pandemic thanks to solutions for the visual inspection and serialization of every single vial of vaccine. The pandemic has accelerated the demand for new performing technologies, and it is there that our ecosystem of technologies has demonstrated its ability to guarantee people's safety, reduce the emergency situation, and offer transparency to the entire supply chain.
In June we land in the Kingdom of Bahrain thanks to rfXcel – with Medical Value Chain, MVC, as a partner – which implements a complete traceability hub to monitor and secure the entire pharmaceutical distribution chain, able to offer complete visibility on each nodal point of the supply chain.
In July, from an agreement with BF Spa, Bluarancio Spa and SDF Spa, RurAll Spa is born. It is a company aimed at creating a digital infrastructure of rural territories thanks to digital technologies and a digital platform for end-to-end traceability of Agrifood products along the entire supply chain thanks to technologies such as IOT, AI, Big Data, Blockchain.
In September, through rfXcel, we sign an agreement with the Ministry of Public Health of the Lebanese Republic for the supply of a traceability hub that secures the country's entire pharmaceutical distribution chain with our partner MVC, Medical Value Chain.
Read all
2020
TOWARDS AN INTERNATIONAL EXPANSION
For us, 2020 is a year of opening up and expanding towards new territories and new business areas, marked by various acquisitions. On April 10, we signed an agreement for the acquisition of 82.83% of Tradeticity, a company founded in Zagreb, Croatia, in 2017, specialized in software management of advanced traceability processes.
In June, we reach a new milestone in the process of strategically diversifying and strengthening our business, with the acquisition of Convel, an Italian company specialized in automated inspection in the pharmaceutical industry.
The year ends with the entry into Antares Vision of Applied Vision, a U.S. based multinational world leader in machine vision systems for the Food & Beverage industry, an acquisition that allows us to strengthen our presence in USA.
Regarding technology, innovation remains an important driver for us: our Innovation Center is inaugurated on 15 October at the CSMT. The main research areas of the new structure – are in the fields of information technology, sensors, materials engineering and computer vision, intersecting mechanical, electronics, medicine, pharma and biotechnology. Among the most innovative projects is the "Smart Ward Platform", an intelligent and flexible platform focused on the well-being of patients in hospitals.
Read all
2019
WE ARE ON THE ITALIAN STOCK MARKET BUT THE BEST IS YET TO COME!
This year on 18th of April, we celebrated a historical day in our journey so far. The trading of ordinary shares and warrants on AIM Italia (Alternative Capital Market) officially began at Borsa Italiana, Stock Exchange in Milan. Trading commenced following the business combination (announced to the market on 19th December 2018) between ALP.I Spac and Antares Vision SpA.
In September we also acquired a new company! FT System, specialized in inspection and control systems in the sector of bottling and packaging, has been acquired from AROL Group thanks to an industrial partnership agreement. This acquisition will increase product offers in the beverage industry with the aim to build a competitive advantage in the market.
Over the years, the challenges of product quality and greater consumer protection have branched out among many industries. From pharmaceuticals to medical devices, food, beverage and even cosmetics.
With each industry presents new challenges for visual inspection, traceability and smart data management solutions. Soon, it will be possible to track the origin of raw materials as well as the processing site, treatments undergone on the packages as well as other useful information for consumers. This is just a sample of Emidio and Massimo's endeavours. The thrill of such exciting new challenges always presents an increased workload, however when you are surrounded by colleagues with enthusiasm, passion and an undeniable spirit, we will surely grow together.
Read all
2018
ANTARES VISION TAKES ITS FIRST STEPS INTO THE FINANCIAL WORLD
In August Antares Vision gave access to Sargas – a company recently established with a pool of Italian and foreign entrepreneurs and led by Guido Barilla. Sargas operates the highest interest sectors of Antares Vision, with 15% of their shares funding a capital increase operation. While in December Antares Vision and ALP.I Spac announce that they have reached an agreement for the integration of the two companies in order to support and accelerate the path of strong growth undertaken by Antares Vision from the time of its foundation to today. We also took part in cultural activities related to our territory: the Art Bonus project for the restoration of the Winged Victory. A commitment that confirms the company's strong roots in its territory, but also a debt of gratitude towards Brescia, the city that allowed Massimo and Emidio to realize their professional and human dreams. These dreams have propelled the company into an international reality: The Winged Victory statue represents a way of thanking after an achievement and our contribution to its restoration was a gesture of gratefulness towards Brescia and its culture, for which we were able to grow.
The company continues its expansion with the opening of a new branch in India thanks to a joint venture with the Indian Company JISL.
Read all
2017
ANTARES VISION: 10 YEARS OF ACHIEVEMENTS
We celebrated our first 10 years by buying back the shares held by the Italian Investment Fund since July 2012.
With over 350 employees, seven branches worldwide and a turnover set to exceed €100m, the company is thriving. Our systems are not only installed worldwide as stand-alone modules but also as integrated solutions on high performance automatic systems. At this time, we had over 1100 packaging lines, in more than 170 pharmaceutical production facilities worldwide each fitted with Antares Vision traceability solutions for serialization, aggregation and notified products for shipment. We also had more than 20,000 inspection cameras to assure the everyday safety of primary and secondary packaging processes in production lines, where company performance and continuity are mandatory.
With a new solution in the pipeline, the SME Observatory selected Antares Vision as one of the excellent Italian companies and rewarded us during a roundtable discussion on Industry 4.0 held at Borsa Italiana. Future goals include opening up businesses in India and Ireland.
Read all
2016
WITH SUPPORT FROM HORIZON 2020
We received support from the Horizon 2020 programme in order to develop a machine that performs automatic inspection of lyophilised pharmaceutical preparations using innovative technologies. Horizon 2020 is the largest funding programme for research and technological innovation ever implemented by the European Union. For us, this is a new achievement. Horizon 2020 recognizes innovative spirit and our ongoing search for solutions which are designed to assure product quality and safety.
This was not the only new project for us this year. We opened new offices in Lyon and South Korea and celebrated the operation of our thousandth serialization line. During this time, the company also made the first automatic inspection machines for larger bottles.
Our internal organization began to take shape, along with the internal processes for project and service management – as well as our extra curriculars like the Antares Vision Summer Festival. The AV Summer Festival is a series of organized events which are planned by a group of visionary volunteers who have the ability to transform our terrace into a silent disco, games arcade, 80s party or astronomical observatory.
Read all
2015
WITH NEW HEADQUARTERS SPRINGS NEW LIFE!
We upgraded our Headquarters to a site four times larger than the previous one. Now, with 200 employees, we anticipated further expansion and a growth plan that suggested Antares Vision's employee rate would double in the next 5 years. Now we had research centres, a finance department and the certification and assembly shops, as well as the Antares Vision Centre of Excellence which is devoted to in-house training for customer companies as well as new recruits.
With other new facilities such as a music room for evening sessions and other areas for socializing, the only thing missing is the conventional badge of clocking in and out – because trust and responsibility prevail.
This year also held some surprise events, such as the European Business Award in London, for the best international strategy, after a 16-month long competition. This honour is the recognition of organic and sustainable growth stemming from targeted investments and strategic partnerships, still and continuously growing.
Read all
2014
LEADER IN TECHNOLOGICAL INNOVATION
Antares Vision represented Italy for the European Business Awards – a showcase for the most dynamic companies across Europe; and was awarded National Champion in the technological innovation section. For Emidio and Massimo "it is also surprising that Europe recognizes the value of our work, which for us keeps being a pleasure. However, we are aware that we produce excellent products that stem from the commitment and skills of all our employees, as well as from an exchange with other countries, other cultures and other companies." This was complete confirmation that Antares Vision is heading in the right direction.
2014 held a wealth of other activity for Antares Vision. The first Visual Rotating Inspector machines were developed and the third generation of ATS (Antares Tracking System); the software designed to manage Track & Trace processes; officially launched. Also, within the same year, the new Bensheim facility opened (devoted to the German language markets) and construction began on the new AV headquarters. Not to mention the many activities with staff prospective customers such as, swimming in lake Iseo at Monte Isola, a workshop in Cork, Ireland and a dinner a stone's throw from the Avenue des Champs-Elysées in Paris.
Read all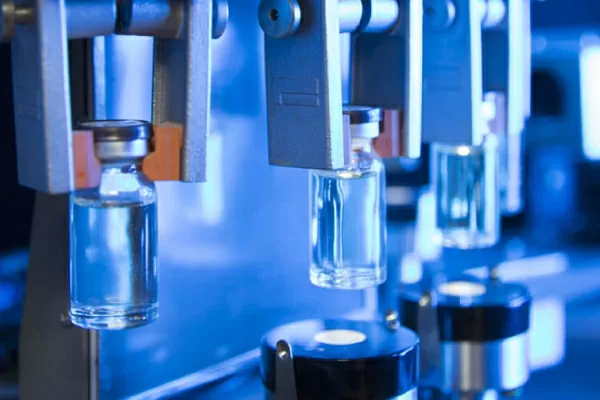 2013
We met with a Pharma-based company that designs automatic machines for the inspection of pharmaceutical products. This experience determined great understanding of the qualities and potential to integrate and differentiate a portfolio of solutions for this market. This achievement allowed us to offer pharmaceutical companies automatic inspection machines for the inspection of many aspects: tablets and capsules, as well as powders and liquids both in vials and bottles, thus assuring the integrity of the project as well as the package.
As standardized inspection procedures developed, so did we. We opened the first Antares Vision foreign offices in the United States and Brazil – the main regions in the pharmaceutical industry. "one day we'll have them serve us a coffee in our office at the Empire State Building," say Massimo and Emidio each time they visit New York (one of their favourite destinations to talk shop).
Read all
2012
OUR EXPANDING NETWORK
Our strategy evolved after the victory competition with Siemens. Thanks to the Italian Investment Fund, Antares Vision were able to access the resources required to be accredited as Sanofi's global partner. It was a necessary and important step, that provided us with more financial and organizational strength which also quickly gave us credibility as one of the top five global players for solutions within the pharmaceutical sector.
Also, with the development of new inspection solutions, such as the Universal Packaging suite our international network began to develop and spread. This led us to establish a presence in 40 countries, with sale offices and technical support worldwide.
Argentina was the first South American country to implement Track & Trace. During one of the first visits to Buenos Aires, some of our Antares Vision representatives were given a taste of Latin America and were invited to a Milonga to see tango shows, as well as visit the pharmaceutical product packaging facilities of course.
Read all
2011
CHALLENGE ACCEPTED!
2011 was a turning point for us. Sanofi, a leader in the pharmaceutical sector, added us to the roster of companies which they would select their global tracking system supplier. At this time, we were already well established in Italy and Turkey, but didn't yet have an international profile. The final stage of this challenge saw Antares Vision head to head with Siemens, where both companies presented their pilot projects – and we won!
This victory was fully intensified by the long hours spent by all the staff at Antares Vision. Many of the staff actually relocated for long stretches of time to the Lüleburgaz facility, where they worked day and night to implement the project. Among all the memorable moments of this time, the greeting of Italian ambassador to those who swam across the Bosporus strait and fine dining at the only restaurant available will remain at the forefront. Sanofi's Jean Marc Bobée has later said that they chose Antares Vision due to our dedication, passion and skill – together with our incredible flexibility. From here on, we were forced into the global market due to Sanofi's 40 production facilities and over 400 lines throughout the world. An important challenge accepted not without fear, because the reference horizon now extends to all continents.
Read all
2010
MULTIFUNCTION MODULES & NEW SPACES
This year we launched the most complete compact serialization module in the world: Print & Check All In One – which integrates advanced packaging features never seen before in a single unit. This solution covers labelling, sealing, weighing and tracking, which are all traditionally performed by individual, interoperable machines which considerably extend the packaging line. Our single machine alternative now makes it possible to perform all the requirements with economic advantage.
Other advances at this time included machines developed for the French market to print non-serialized code types and the development in Track & Trace regulations in China. We also installed the first machine for the inspection of injectable powders on the production and packaging line. A little bit closer to home, our new facility opened in Torbole Casaglia (Brescia), to perform FAT testing (Factory Acceptance Tests) which represent the mandatory requirement for completing projects. At the end of October, the first FAT for Menarini Turkey was successfully completed.
Read all
2009
THE LAUNCH OF INTERNATIONALIZATION IN TURKEY
The first in-line capsule inspection system is designed and developed to meet the high-quality capsule and packaging requirements set by the Japanese market. During the capsule rotation stage, the system checks the product's surface. This module designed by Antares Vision, is still in use today, however the technology has evolved and is now known as the TCI (Tablet and Capsules Inspector).
This year also marked the first stage of the serialization programme in Turkey. As a result, the number of companies seeking solutions to fit their packaging lines began to grow in view of the upcoming regulation. We also made and developed the first compact serialization module in the world – fitted with a weight check module. This is a valid alternative to two installation modules which ultimately means saved space on the packaging line.
Thanks to the cooperation with the owner of Kura Ltd, David Romano – a well established agency that was active on the Turkish market, we organized a workshop in Istanbul that was attended by more than 100 participants. We presented our innovative architecture and our ability to integrate the necessary components in one single turnkey solution. Later we would fit our solutions to over 40% of the pharmaceutical packaging lines in Turkey.
Read all
2008
THE WORLD'S FIRST STANDALONE SERIALIZATION MODULE
This year we opened our technological development hub in Germany.
That same year, Turkey started to implement a pharmaceutical tracking system – Track & Trace. Turkey was the first country in the world to do this due to the fight against counterfeiting, protect patients' health and set up an effective system to manage tax refunds.
Anyone producing pharmaceutical products intended for that country must comply with these regulations. One of the multinational companies which was based in Lazio, finalized an ambitious project to equip five automatic lines and one manual one in order to comply with Turkish regulations by the end of the year. We took the challenge, developed and fit a packing and cartooning machine in record time – six months! In the meantime, back at the laboratories, we created the first stand alone module to perform these functions on an independent station. The module featured a number of benefits such as: optimized validation times, reduced downtime and reduced installation time.
Read all
2007
EMIDIO ZORZELLA & MASSIMO BONARDI FOUND ANTARES VISION
We began our story with a small office in Castel Mella close to Brescia, with a four-million-euro customer portfolio and only 18 employees. Admittedly, this initial step was a mix of recklessness, exuberance, innovation and a love for a challenge. However, it was offset by a great sense of responsibility and a focus on reality.
Setting up with no resources and a borrowed Wi-Fi connection from the kind restaurant next door, the objective was clear: assure a salary and growth for themselves and their team. We focused on the pharmaceutical market because unlike other industries, it had the cutting-edge requirements and standards as well as a pool of potential customers around Northern Italy.
The first vision systems were produced, based on smart cameras that check the conformity of products. Later advances ensured the blister is closed and the batch, expiration date and instruction leaflet are all present and correct to assure the quality of the pharmaceutical product and packaging. We then began to establish ourselves as a supplier of standard inspection systems for multinationals producing pharmaceutical packaging machines.
Read all
20 +
1000 +
35000 +
60 +