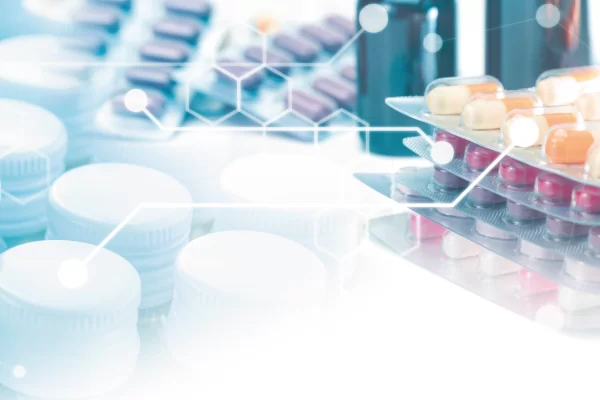 SEMINAR PHARMA 4.0 – PRODUCT SAFETY, PRODUCT QUALITY & DIGITALISATION
Discover the future of Pharma 4.0 at our Seminar on Product Safety, Product Quality & Digitalization. Dive into exciting topics such as end-to-end traceability, packaging solutions, artificial intelligence, and digital inspection. Revolutionize your Pharma 4.0 journey as you explore the latest advancements in serialization, track and trace, digitalization, sustainability, AI-driven visual inspection and the importance of CCIT for the product lifecycle. Gain valuable insights from a prominent customer as they share their successful integration of our track and trace system into their pharmaceutical production lines. Witness firsthand how a leading packaging machine manufacturer directly incorporates our serialization and aggregation solutions, ensuring seamless operations. Don't miss this unique opportunity to shape the future of the pharma industry.
November 09, 2023 | IntercityHotel Frankfurt Airport
The participation fee is 49€ (VAT 19% included)
80€ for 2 colleagues for the Seminar at the same time
100€ for 3 colleagues for the Seminar at the same time

The Deadline for the Registration is the 29th September!
STEFANO FARISÈ
Manufacturing business unit manager
Stefano Farisè is a Mechanical Eng. with a PhD in fluid dynamics.
After his Phd he started working as Sales engineer for an automotive company, mainly data analysis and forecast. One year later as the same company decided to increase its R&D capabilities, he joined the R&D team. With the main focused on product and process R&D. As the process R&D became more important in 2019 he switched the role of Innovation Manager for the entire company group.
In 2021, looking for new challenges and new way to apply his skill in digitalization for manufactory companies, he joined Orobix as Manager of the Manufacturing business unit where he is focused on bringing AI to the shop floor.
Read more
ANDREAS JÄCKEL
Senior Track & Trace Engineer
Andreas Jäckel has been working at AbbVie Ludwigshafen (at that time Abbott) since 2001 in the Maintenance & Engineering department with a focus on electrical engineering. Since 2008, he has accompanied the introduction of the first Track & Trace project at the site and took over responsibility for the system after four years. Over the years, Andreas Jäckel has established himself as a local and global contact person in T&T matters.
Read more
MATTHIAS HAMMANN
Project Manager / Consultant
Matthias Hammann has been working in the IT environment for an IT service provider based in Ludwigshafen since 2011. Over the years, he has supported various projects in different industries. (Rollouts, IT infrastructure, change and service management, etc.) Since 2017, he has been working in the pharmaceutical sector in the area of track & trace, where he is responsible for both day-to-day and project business.
Read more
MARCO BAIETTI
Global Business Owner Track & Trace
Marco Baietti is responsible for T&T and Inspection System business units in Antares Vision group since 2023.
In the previous last 8 years commercial director and board member in SEA Vision Group, supplier of T&T and inspection systems in life science.
Since 1995 he worked in packaging machineries sales and consultancies.
Read more

ALESSANDRO MARIA IACI
Director of Sales & Marketing
Alessandro Maria Iaci manages and oversees the sales operations in Siempharma. He is responsible for designing plans to meet targets, developing relationships with clients/customers, and evaluating costs for selling products and services. His responsibilities include developing key growth sales strategies, tactics and action plans.
Read more
ROB LEONARD
Sales Director – Life Sciences EMEA
A multi skilled and disciplined apprenticed trained Electrical Engineer with over 30 years experience in the global market place. Current position as UK based Sales Director at rfxcel (Part of Antares Vision Group) providing consultative technical solutions, sales and support for global supply chain visibility, traceability and regulatory compliance requirements. Previous role as Key Account and New Business Development Manager promoting and supporting all products and services as available from CXV Global to Life Sciences to include automation, label inspection, machine vision, serialisation, SaaS, digitisation and resourcing to high end R&D and manufacturing sites. These roles and positions over the last 30 years have evolved from previous hands on positions in the Laser coding, marking and engraving industry as Sales Director, Business Development Manager, Global Product Manager, Systems Group Manager, Project Manager, Commissioning Engineer, Service Engineer and Electrical Engineer.
Read more

JENS HÖLLEIN
CEO – be integral GmbH
Jens Höllein vocational college state exam as biology lab professional, later
studying biology in Bochum and Freiburg (Germany), with a diploma from Albert-Ludwigs University Freiburg
A total of 22 years of experience in technical sales and sales Management:
Different roles first in the field of Molecular Biology and Cell Culture
(Gibco; Invitrogen; Sigma Aldrich; Affymetix for branched DNA)
Later in pharma technology for almost 10 years at LIGHTHOUSE Instruments
Since Feb. 2022 self employed as an independant CCIT consultant
Since July 2022 Co-Owner and Founder of be integral GmbH the German CCIT lab service provider.
Read more
THIERRY PROTAS
Business Owner DIAMIND Factory
Thierry Protas has spent the last 25 years focused on Pharmaceutical Industry to implement automation and robotic solutions, labelling and printing processes, Visual inspections, Serialization, Aggregation and T&T system from level 1 to 5, Brand protection solutions, mainly in packaging environment.
He now uses this experience to link all this together and bring pertinent analysis at the plant level to optimize the production, reduce wasted time and increase the profits of my customers.
He is passionate by technology and how to mix the different tools together to bring the best of breed solutions for our customers.
Read more

EMANUELE TELLAROLI
Sales Specialist Inspection Machines
Emanuele Tellaroli is a Doctor in Electronic Engineering, working as Regional Sales Specialist for Antares Vision Inspection Machine Product Unit.
Active in the Industry since 1986, Emanuele joined Antares Vision in 2008 and he's currently in charge of the DACH region, France, The Iberic peninsula, Greece, Cyprus, Malta and the African continent, supporting the Antares Vision sales organization on the entire portfolio of Inspection Machines.
Read more

9:15 h
Introduction to the DIAMIND Ecosystem (Marco Baietti)
Read more
10:00 h
Supply Chain Transparency Solutions (Rob Leonard)
Through concrete examples and practical use cases, our expert will unveil the exceptional capabilities of a leading supply chain platform in the realm of serialization, traceability, and compliance within the life sciences sector.
We will delve into the core of this solution, initially introduced two decades ago. This cutting-edge system consistently monitors incoming data, ensuring impeccable quality control. Furthermore, it empowers you to harness a wealth of high-quality, unit-level data, fueling enhanced business intelligence. Our unwavering commitment to value and quality not only drives improved business outcomes but also mitigates supply chain expenses effectively.
In addition, we will explore how this platform guides you in meeting rigorous regulatory standards. This entails the strategic incorporation of advanced technologies to safeguard data integrity, foster connectivity, enable scalability, and facilitate seamless integration. Our overarching goal is to craft a solution that transcends mere compliance, offering tangible value to your operations.
We acknowledge the substantial investments often necessary for regulatory adherence, and we understand the intricate and evolving nature of these laws. This recognition forms the basis of our customer-centric approach as we work together with you on this transformative journey. Tailoring our state-of-the-art serialization and traceability software solutions to suit your immediate business requisites, we lay the foundation for enduring value creation.
Read more
10:45 h
Coffee Break / Networking
Read more
11:15 h
Case Study ABBVIE: Conversion of existing packaging lines to new T&T solutions (M. Hammann / A. Jäckel)
This presentation explains from customers perspective what it takes to convert existing packaging lines in order to work with new equipment (hardware & software) for their serialization and aggregation processes. It all starts with the specification of the requirements for new machinery like Print & Check units, respectively for integrated solutions into labeller, cartoner and end-of-line packaging machines. What are the required software processes, especially for aggregation, do I need a zone -management?  What are the milestones to be managed, how to coordinate the interaction required between the supplier, the OEM and the customer itself ? Finally the installation and integration phase where it all comes together. A lot of effort, is it worth it?
Read more
12:00 h
Packaging Solutions – SIEMPHARMA (Alessandro Maria Iaci)
Read more
13:45 h
Digital Solution for Process and Packaging Line (Thierry Protas)
This presentation will focus on solutions for the pharmaceutical industry to manage the plant digitalization: how to use different modules to measure OEE (Overall Equipment Effectiveness), to monitor Production Quality, to manage preventive maintenance, to make better and faster decisions based on facts from the production data.
You will learn how to collect information from existing machines, monitor and visualize it, and how to use this data to run pertinent analysis for customer benefits.
You will also discover how those solutions could be completed by Artificial Intelligence to increase the benefits and speed return on investment up.
Finally, we will propose a path to manage the plant digitalization through Antares Vision Group solutions, from the different experiences we have already managed and share our lessons learned.
Those experiences have been managed on Pharmaceutical industry but also on Food and Beverage.
Read more
14:30 h
AI in Digitalisation and Inspection, OROBIX (Stefano Farisè / Diego Epis)
Read more
15:15 h
Coffee Break / Networking
Read more
15:45 h
Why is CCIT important for your product lifecycle ? – Regulatory landscape and impact of CCI on product sterility and stability – be integral (Jens Höllein)
This presentation explains the principles of Container Closure Integrity (CCI). We will take a look at route causes that can be relevant for a loss of integrity and what kind of risk exist for your products.
The related terminology is as well explained as the technologies that are available for CCI-Testing (CCIT). The regulatory landscape is presented. An interpretation of possible methods for CCIT will be addressed.
As Annex 1 will be in place for a couple of month the latest insigth will be provided by the speaker.
Finally, some case studies are shown and a look is taken at the risks of hidden defects. Hidden defects also non as non permanent defects that are temporary and occur either during the production process or under harsh conditions as they i.e. exist in cold storage.
Read more
16:30 h
CCIT solutions – From sampling to 100% inspection (Emanuele Tellaroli)
Read more
November 09, 2023 | IntercityHotel Frankfurt Airport
HOTEL:
IntercityHotel Frankfurt Airport
Am Luftbrückendenkmal 1
60549 Frankfurt/Main, Germany
option until 10.10.2023
Booking eMail: frankfurt-airport@intercityhotel.com

CANCELLATION POLICY (Seminar)
The communication of the cancellation must be made in writing.
The cancellation will be accepted by October 20st 2023, up to that date the total amount less the 50% for the cancellation of the registration will be refunded.
There are no refunds for cancellations received after October 21st 2023
CONTACT
ANTARES VISION GmbH
Strassheimer Strasse 45
61169 Friedberg (Hessen) – Germany
Tel.: +49 6031 68417 88
Email: sales.de@antaresvision.com